Fillaudeau's @ Pinelli Estate
Click here for Menu
Reservations are preferred and can be made by calling 9377 7733
Opening Hours

Lunch - everyday except Tuesday and Wednesday
Dinner- Thursday to Sunday

Pinelli Estate Wines welcomes you to visit our Cellar Door for free tastings (10am to 4.30pm) before or after enjoying Fillaudeau's mouthwatering cuisine. Our friendly Cellar Door team will assist you with food and wine matching to maximise your dining experience.
Husband and wife team of French-born chef Manu Fillaudeau and Perth's Jasmin have extensive experience in hospitality throughout Europe and Australia and are proud to invite guests to their rammed earth rustic cafe/restaurant set amongst the vineyard of the Estate in the Swan Valley. They look forward to sharing with you their passion for delicious contemporary Mediterranean food, wine and relaxed dining.

The venue is fully licenced with wine, beer and spirits available. No BYO
Reservations are preferred and can be made by calling 9377 7733
New Releases Hit the Shelf

For all those who have been waiting, the first release wines from the 2016 vintage are now available. Taste our Chenin Blanc, Late Harvest and, following on from the success of the Pink Moscato Frizzante, our new White Moscato Frizzante. Delicious especially if you have a sweet tooth.

Trophy Winner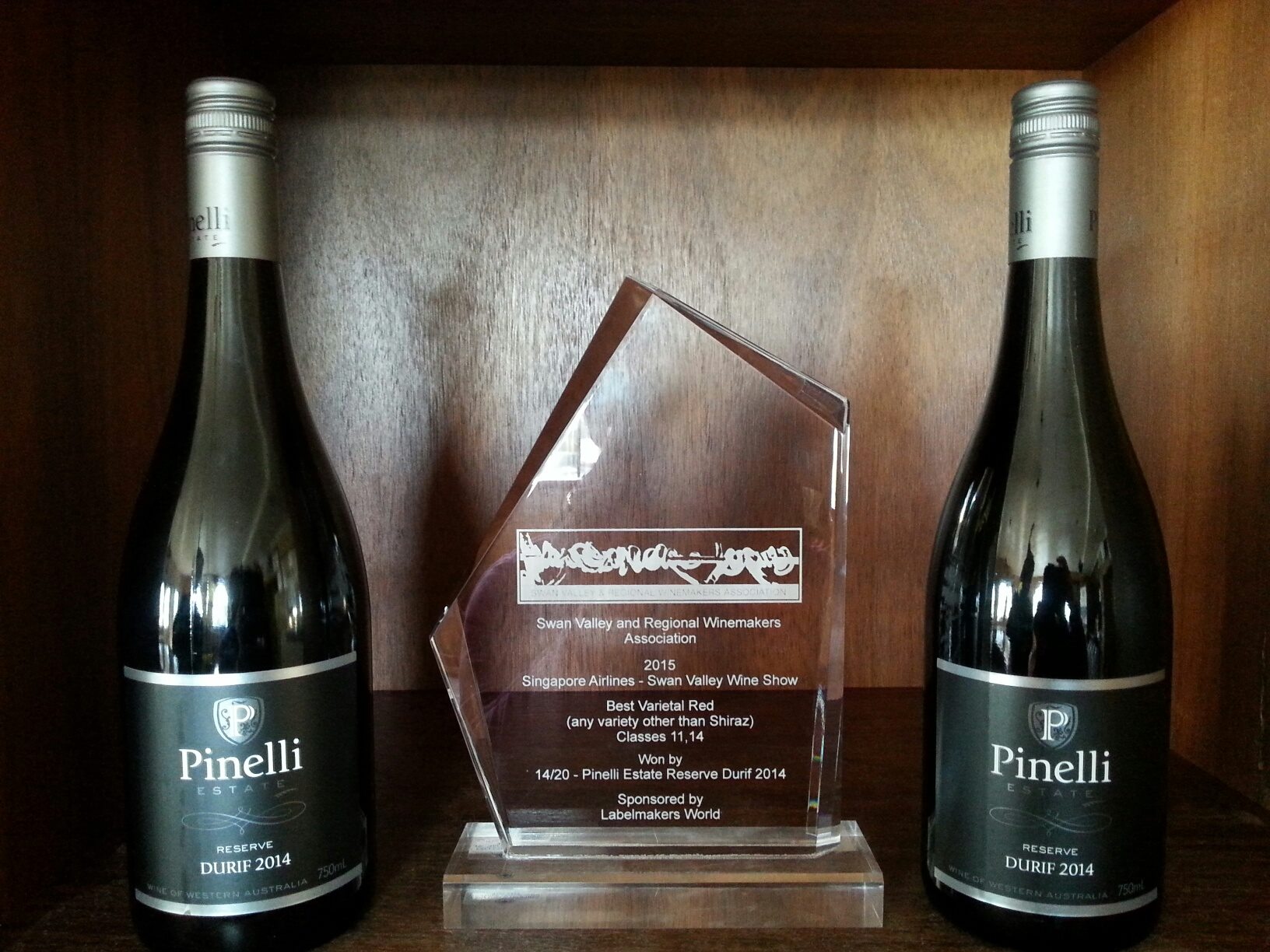 It's a Winner! We like it and so did the judges.
We are delighted to announce that our recently released 2014 Reserve Durif was awarded the trophy for Best Varietal Red other than Shiraz at the 2015 Singapore Airlines Swan Valley Wineshow. Winemaker Daniel Pinelli accepted the award on behalf of the team at the Gala Dinner and Awards Presentation last Friday evening amongst the winemakers of the Swan Valley. The judges reinforced our decision to be the first producer of this new French varietal in the Swan Valley by saying that "Durif looked ideally suited to the region".
The wine is rich and dense with dark fruits on the nose and palate with some underlying tannin giving structure to the wine.
So if you are on the lookout for something different why not come and visit at the Cellar Door - open 7 days to judge it for yourself . $35 per bottle.
NEW VARIETY

We invite you and your friends to come in and taste our newest white wine release - 2015 Reserve Vermentino.
Originating from southern Italy, this delicious dry white wine is filled with tropical aromatics that follow on the palate with fresh citrus and apple notes. $18 per bottle
Dont just take our word for it.........

Perth Cafe Culture - The FWO (The Food and Wine Ombudsman) visited our Cellar Door in December 14 and this is what he had to say.
http://perthcafeculture.com.au/pinelli-estate/
Travelling Corkscrew - Casey is one of Western Australia's best known wine bloggers and has been a supporter of Pinelli Wines for many years. Here is what she had to say about the 2013 Sparkling Juliet.
http://travellingcorkscrew.com/pinelli-estate-sparkling-juliet/

JAMES HALLIDAY

We're delighted to announce that James Halliday's Wine Companion 2014 has rated Pinelli Estate wines as 4.5 star winery knocking on the door of a 5-star rating in recognition of the high to very high quality wines produced .
More info... click here
Pinelli Estate Wine now on Facebook & Instagram

Keep updated on wine specials, events and Cellar Door news by clicking here....
Follow below and post your photos #pinelliestatewines